Izglītojošs pasākums par veselības veicināšanas un slimības profilakšu pasākumiem pilsētā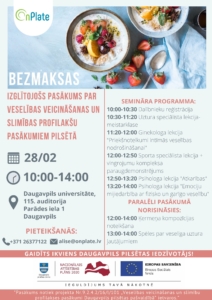 2020.gada 28.februārī plkst. 10:00 Daugavpils pilsētā (Parādes iela 1) norisināsies izglītojošs pasākums par veselības veicināšanas un slimības profilakšu pasākumiem pilsētā.
Pasākuma mērķis ir lekciju un praktisko nodarbību laikā sniegt dalībniekiem zināšanas un izpratni par veselīga dzīvesveida ietekmi gan uz fizisko, gan garīgo veselību.
Pasākuma programma:
10:00-10:30 Dalībnieku reģistrācija
10:30-11:20 Uztura speciālista lekcija-meistarklase par veselīga uztura pamatprincipiem; veselīga uztura ietekmi uz cilvēka veselību; veselīga ēdiena pagatavošanas tehnoloģijām; tiks stāstīts par uztura mītiem, veselīga uztura svarīgumu. Semināra noslēgumā veselības kokteiļu meistarklase.
11:20-12:00 Ginekologa lekcija "Priekšnoteikumi intīmās veselības nodrošināšanai" par seksuālo un reproduktīvo veselību.
12:00-12:50 Sporta speciālista lekcija-nodarbība par fiziskās veselības nozīmi un ietekmi uz garīgo veselību, par pareizu ikdienas aktivitāšu veikšanu. Praktisku vingrojumu kompleksa paraugdemonstrējums.
12:50-13:20 Psihologa lekcija "Atkarības" – to rašanās mehānisms un kā no tām atbrīvoties
13:20-14:00 Psihologa lekcija "Emociju mijiedarbība ar fizisko un garīgo veselību"
Paralēli pasākumam norisinās:
12:00-14:00 Ķermeņa kompozīcijas noteikšana. Veselīgs ķermeņa svars ir viens no faktoriem, kas veicina labu veselību – Jums būs iespēja noteikt ķermeņa kompozīciju, pie tam darīt to uztura speciālistes klātbūtnē, kura pēc tam varēs arī sniegt profesionālus skaidrojumus un komentārus par iegūtajiem rezultātiem.
13:00-14:00 Spēles par veselīga uztura jautājumiem.
Pasākums notiek projekta Nr.9.2.4.2/16/I/101 "Veselības veicināšanas un slimību profilakses pasākumi Daugavpils pilsētas pašvaldībā" ietvaros.

https://onplate.eu/wp-content/uploads/2020/02/Document-page-001-scaled.jpg
1500
1060
Linda Bauere
https://onplate.eu/wp-content/uploads/2018/11/onplate-logo_2018c.jpg
Linda Bauere
2020-02-07 16:20:16
2020-02-07 16:20:16
Izglītojošs pasākums par veselības veicināšanas un slimības profilakšu pasākumiem pilsētā