Informatīvais seminārs par onkoloģijas slimībām plašākai sabiedrības daļai
31.augustā no 11:00 līdz 15:00 Daugavpils Centrālajā parkā norisinājās informatīvais seminārs "Aktuālais par onkoloģiju un tās profilaksi". Semināra mērķis bija sniegt dalībniekiem nepieciešamo informāciju par onkoloģijas tēmu, cik nozīmīgi ir atklāt slimību laicīgi, ka arī izglītot par profilaksi, lai samazinātu onkoloģijas slimību risku.
Semināra laikā bija iespēja noskatīties informatīvu filmu "Tu neesi viens – onkoloģija", konsultēties ar ārsti Karlīnu Elksni par onkoloģiju un ar to saistītām tēmām. Dalībnieki uzzināja par izplatītākajiem vēža veidiem, to profilakses un ārstēšanas iespējām. Pasākuma laikā bija pieejamas krūts mulāžas, ar kuru palīdzību sievietēm tika izskaidrotas krūšu pašizmeklēšanas metodes, kā arī ikvienam bija iespēja praktiski patrenēties to veikt uz mulāžas.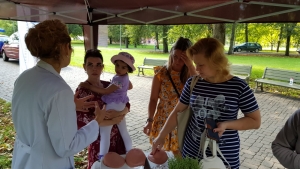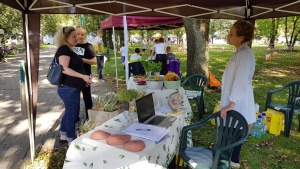 Apmeklētāju lielu atsaucību guva uztura speciālistes veselīgo smūtiju meistarklase, kā arī iespēja nogaršot speciāli gatavotās veselīgās uzkodas. Uztura speciāliste padalījās ar ieteikumiem, kā mazināt vēža risku ar uzturu un stāstīja par uztura nozīmi onkoloģiskās terapijas laikā.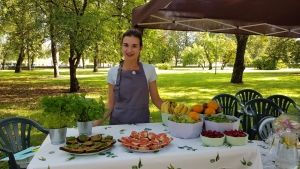 Kopumā pasākumam atsaucība bija liela, dalībnieki arī saņēma informatīvo izdales materiālu, lai pēc kāda laika atsvaidzinātu iegūtās zināšanas un pēc receptēm pagatavotu mājās veselīgos smūtijus.
Izpildītājs: SIA OnPlate
Pasākums tiek īstenots Eiropas Savienības Sociālā fonda projekta "Veselības veicināšanas un slimību profilakses pasākumi Daugavpils pilsētas pašvaldībā ESF projekta Nr.9.2.4.2/16/I/101 ietvaros
https://onplate.eu/wp-content/uploads/2019/08/Relīzes.png
600
600
Linda Bauere
https://onplate.eu/wp-content/uploads/2018/11/onplate-logo_2018c.jpg
Linda Bauere
2019-09-11 13:58:55
2019-09-11 13:58:55
Informatīvais seminārs par onkoloģijas slimībām plašākai sabiedrības daļai