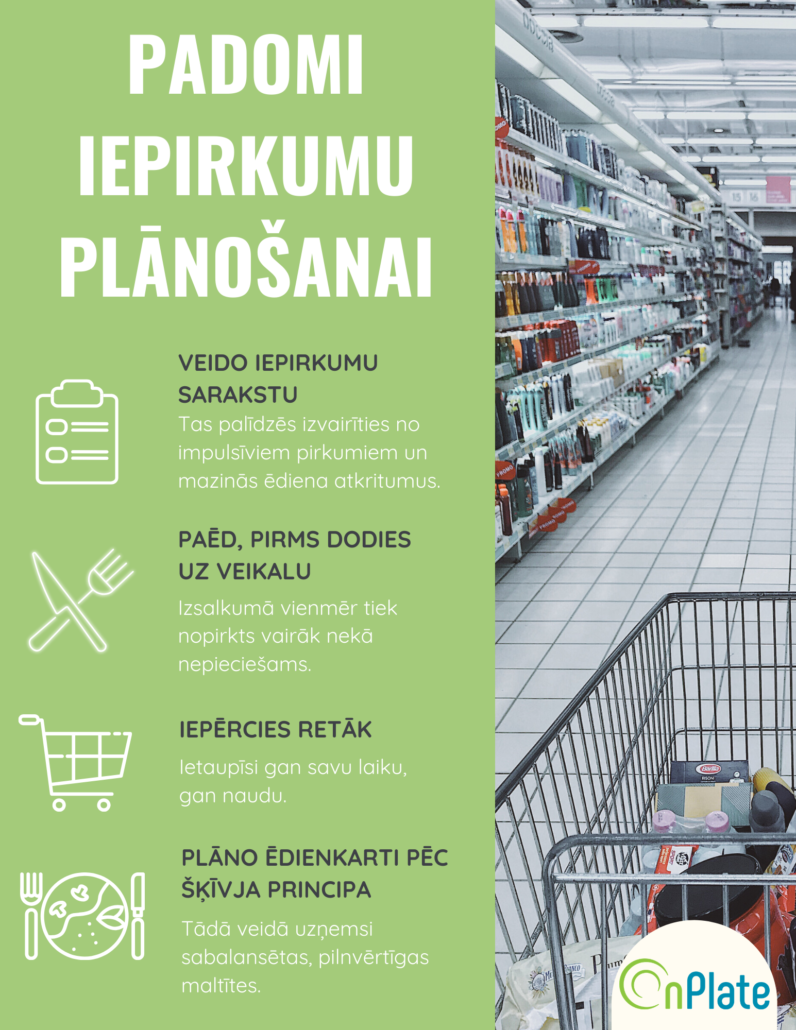 Šajā laikā, kad cenšamies ieturēt distanci un lieki neuzturēties sabiedriskās vietās, ēdienreižu plānošana būs īstais risinājums lētākai veikala apmeklēšanai un naudas ietaupīšanai! ??
Ēdienreižu plānošana var būt VIENKĀRŠA! Aizmirsti par sarežģītām Excel tabulām! Pieraksti vairākas savas iecienītās receptes un izveido iepirkumu sarakstu.
Ir pieejamas arī dažādas APLIKĀCIJAS, kas palīdz izveidot iepirkumu sarakstu telefonā (piemēram, veikala Rimi aplikācija latviešu, krievu, angļu valodā), kā arī sniedz iedvesmu jaunām receptēm.
Ēdienreižu plānošana ir lielisks veids, kā:
? Izvairīties no RUTĪNAS un vienveidīgas ēšanas;
? IETAUPĪT naudu, mērķtiecīgi dodoties pēc nepieciešamajiem produktiem, tādējādi izvairoties no impulsīviem pirkumiem;
? Ietaupīt LAIKU, pagatavojot vairāk ēdiena, to sasaldējot lietošanai citā dienā;
? Vieglāk izsekot tam, kādi produkti palikuši plauktos un kādu produktu krājumi jāpapildina;
? Parūpēties, lai ēdiens būtu VESELĪGS un PILNVĒRTĪGS – maltītēs iekļaujot dažādus dārzeņus, salātus, augļus, vajadzīgās olbaltumvielas, graudaugus – uzņemt visas nepieciešamās uzturvielas;
? Izvairīties no neveselīgas našķēšanās! Ja pie rokas būs saujiņa riekstu, kāds auglis vai dārzenis, būs vieglāk atteikties no neveselīgām saldām un sāļām uzkodām, kas tavai veselībai labumu nesniegs!
? SAMAZINĀT izniekotās pārtikas daudzumu!
P.S. Kad iepērcies, pievērs uzmanību pārtikas produktu marķējumam. Vai zināji, ka derīguma termiņš "Ieteicams līdz" norāda datumu, līdz kuram pārtikas prece saglabā paredzēto kvalitāti un, ja produkts nav sabojājies, to drīkst lietot uzturā? Toties "Izlietot līdz" norāda datumu, līdz kuram produktu ir droši lietot, tāpēc pārtikas preci pēc norādītā galīgā derīguma termiņa lietot nedrīkst!
Baudi dzīvi veselīgi! ☀️
Infografiku un rakstu veidojušas Rīgas Stradiņa universitātes programmas "Uzturs" 2. kursa studentes Gunta Zariņa, Sanita Tupureina un Lauma Ilsuma.
Infografiku un rakstu apstiprinājusi OnPlate komanda.
https://onplate.eu/wp-content/uploads/2020/05/Copy-of-Green-Tropical-Fruit-Meal-Plan-Menu.png
1500
1159
Linda Bauere
https://onplate.eu/wp-content/uploads/2018/11/onplate-logo_2018c.jpg
Linda Bauere
2020-05-29 09:59:35
2020-05-29 09:33:49
Kādēļ plānot ēdienreizes?