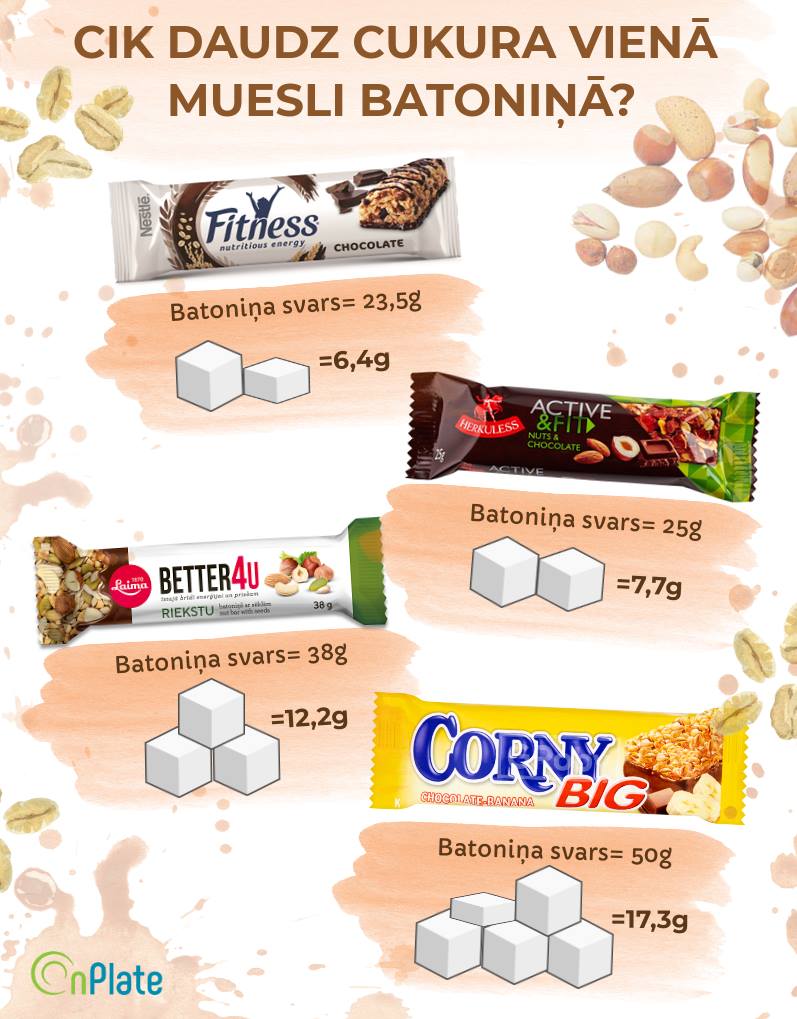 VAI TIEŠĀM LABA IZVĒLE BROKASTĪM? ??
Atzīsim, ka agrākā rīta stundā ne katram no mums izdodas atvēlēt laiku veselīgu brokastu pagatavošanai. Labākajā gadījumā līdzi tiek paķerta kāda uzkoda – bieži vien veikalā nopērkams kas gatavs, piemēram, musli batoniņi ??
Lai arī uz to iepakojumiem visbiežāk ir norādīti tādi vārdi kā "Fitness", "Active", "Fit" u.tml., nevajadzētu uz to vien "iekrist". Svarīgi ir izpētīt to sastāvu, jo īpaši cukura daudzumu tajos. ?
Pievērsiet uzmanību arī tam, ka viena batoniņa svars parasti svārstās tikai ap 20-50 gramiem, kas nozīmē, ka drīz vien pēc tā apēšanas jūs visticamāk atkal jutīsiet izsalkumu un apēdīsiet vēl kaut ko, kas arī varētu saturēt cukuru ?
Tādā veidā dienā noteiktās cukura normas ir ļoti viegli pārsniedzamas jau rīta pusē ?
Atgādinām, ka dienā ieteicams uzņemt ne vairāk kā 25 GRAMUS jeb 5 TĒJKAROTES papildus pievienotā cukura.

Esiet vērīgi! ??
https://onplate.eu/wp-content/uploads/2020/05/53048081_2278379179104384_2992689716718993408_o.jpg
1019
797
Linda Bauere
https://onplate.eu/wp-content/uploads/2018/11/onplate-logo_2018c.jpg
Linda Bauere
2020-05-25 13:05:02
2020-05-25 13:05:39
Cik daudz cukura vienā muesli batoniņā?