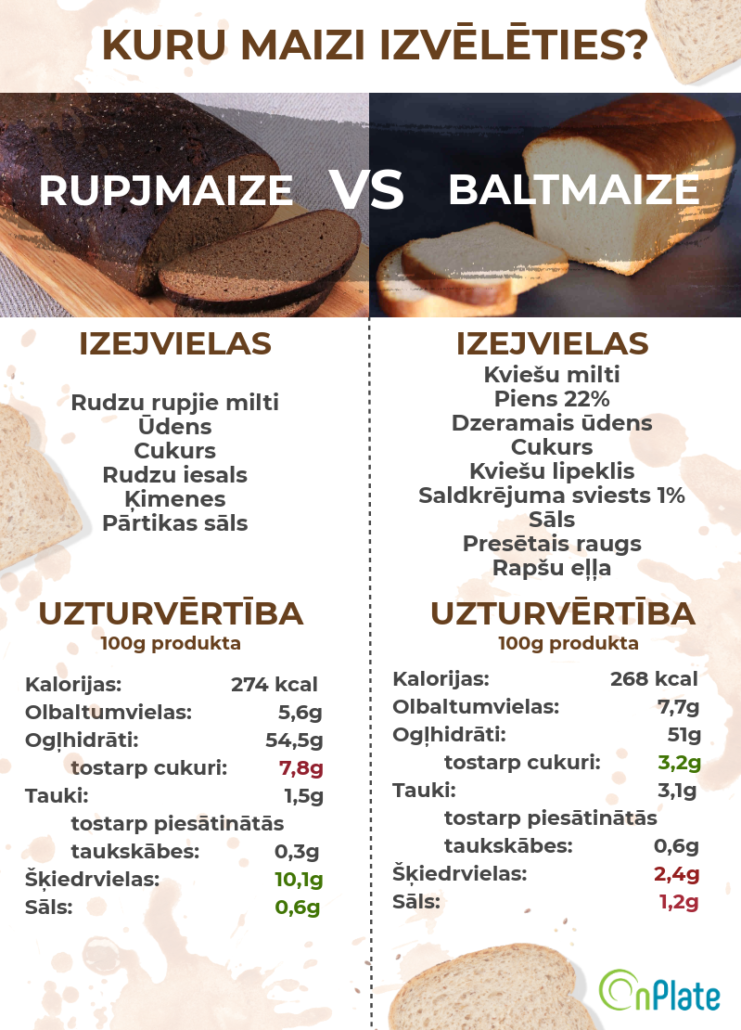 Pirms salīdzinām atsevišķu uzturvielu daudzumu katrā no maizēm, vēlamies teikt, ka viennozīmīgi uzskatīt, ka visas rupjmaizes ir labākas par visām baltmaizēm vai otrādi – nevaram! Katru maizi jāizvērtē atsevišķi- jāizpēta, kas rakstīts uz etiķetes. Kāds varbūt meklēs pēc augstāka šķiedrvielu satura maizē, turpretim citam noteicošais būs cukura vai sāls daudzums ?
Piedāvājam paskatīties uz divām, mūsuprāt, labi pazīstamām un plaši pieejamām maizēm. Neminēsim to nosaukumus, jo maizes nav meklētas tā, lai uzsvērtu, ka viena vai otra būtu labāka vai sliktāka, bet liktu Tev pašam aizdomāties un pētīt sastāvu ?
?Viens ir skaidrs – rupjmaizē būs vairāk ŠĶIEDRVIELU kā baltmaizē, jo rupjmaizes gatavošanā tiek izmantoti rudzu milti, kuri jau ir ~6x bagātāki ar šķiedrvielām nekā kviešu milti, no kuriem tiek gatavota baltmaize.
?Par CUKURU gan jāatzīst, ka to vajadzētu skatīties katrai maizei atsevišķi. Šajā gadījumā mazāk pievienotā cukura ir baltmaizē, bet, palūkojoties veikalu plauktos, atradīsiet gan baltmaizes, gan rupjmaizes ar augstu pievienotā cukura daudzumu, gan tādas maizes, kurām tas pievienots mazāk.
?Vēl izcēlām SĀLS daudzumu. Ar to ir jābūt uzmanīgiem. Dienā iesaka neuzņemt vairāk par 5 g sāls, taču, kā redzam, pietiek apēst vienu lielu maizes šķēli, lai jau ~ piektdaļa no šīs normas būtu aizpildīta.
Ierasti pieņemts, ka maizē uz 100 gramiem ir aptuveni 1 g sāls. Normāli sāls daudzumam maizē nevajadzētu pārsniegt 1,25 g/100 g. Līdz ko šis cipars ir lielāks, jau var teikt, ka konkrētā maize satur DAUDZ SĀLS.
Šajā gadījumā varam teikt, ka mūsu izvēlētā baltmaize satur daudz sāls, taču rupjmaizē sāls saturs ir atbilstošs.
ESIET VĒRĪGI! ??‍⚕️?
https://onplate.eu/wp-content/uploads/2020/05/53909781_2287932501482385_3420047934857674752_o.png
1110
799
Linda Bauere
https://onplate.eu/wp-content/uploads/2018/11/onplate-logo_2018c.jpg
Linda Bauere
2020-05-25 13:11:37
2020-05-25 13:11:37
Uztura detektīvs: rupjmaize un baltmaize