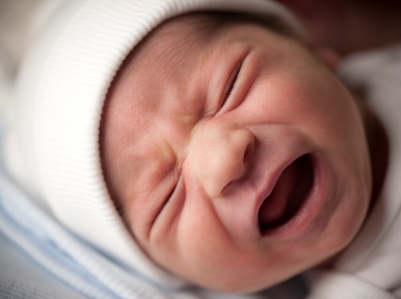 Laktāzes nepietiekamība zīdaiņiem, un kā ar to cīnīties.
Lielākā daļa cilvēku savā uzturā lieto pienu, un jo sevišķi daudz to patērē zīdaiņi, kam mātes piens ir vienīgais barības avots. Piena sastāvā ir atrodama laktoze, kas citreiz tiek saukta arī par "piena cukuru". Laktoze ir dissaharīds jeb ogļhidrāts, kas sastāv no glikozes un galaktozes. Lai cilvēka gremošanas sistēmā varētu notikt laktozes sašķelšana līdz glikozei un galaktozei, ir nepieciešams enzīms – laktāze, kas atrodas tievajās zarnās. Tomēr gadījumos, kad cilvēka organismā ir pārāk maz vai vispār nav šī enzīma, rodas laktozes nepanesamība. Laktozes nepanesamība parasti izpaužas ar vēdera sāpēm, uzpūšanos, caureju un sliktu dūšu.
Laktozes nepanesamība ir viens no izplatītākajiem iemesliem, kādēļ zīdaiņiem rodas kolikas (kolikas raksturo asas vēdera sāpes, kas izraisa mazuļa skaļu, spalgu un ilgstošu raudāšanu). Tās parasti izpaužas zīdaiņiem vecumā no 3 nedēļām līdz 3 mēnešiem, kad mazuļu organismā nav pietiekami daudz laktāzes, lai varētu sašķelt visu ar mātes pienu uzņemto laktozi. Laktāzes nepietiekamības dēļ laktoze netiek sašķelta un absorbēta tievajās zarnās, bet gan nonāk resnajā zarnā, kur tā kļūst par ēdienu resnajā zarnā mītošajām baktērijām, kas barojoties ražo gāzes, un mazulim uzpūšas vēders, rodas krampji un diskomforts.
Ar laiku zīdaiņu organismā palielinās laktāzes daudzums, kā rezultātā laktoze tiek pienācīgi sašķelta un pazūd visi nevēlamie simptomi. Tomēr, lai palīdzētu tiem mazuļiem, kam pirmajos dzīves mēnešos ir laktāzes nepietiekamība, mūsdienās ir izgudroti dažādi laktāzes preparāti (visbiežāk tie ir pilieni), kuri, pievienoti pienam, spēj sašķelt tajā esošo cukuru jeb laktozi līdz vielām, kuras zīdaiņa organisms spēj uzsūkt.
Linda Bauere, topošā uztura speciāliste, OnPlate uztura speciālistu asistente
Izmantotā literatūra :
Melvin B. Heyman. Lactose Intolerance in Infants, Children, and Adolescents. Pediatrics. September 2006, VOLUME 118 / ISSUE 3.
https://www.breastfeeding.asn.au/bfinfo/lactose.html
http://www.foodreactions.org/colic/
https://onplate.eu/wp-content/uploads/2016/11/raud.jpg
299
401
Līga Balode
https://onplate.eu/wp-content/uploads/2018/11/onplate-logo_2018c.jpg
Līga Balode
2016-11-14 20:55:09
2016-11-14 20:55:09
Laktāzes nepietiekamība zīdaiņiem, un kā ar to cīnīties.